During the early part of this century, opportunities for women musicians were few. For the most part, membership in symphonies was open only to men, which led to the formation of numerous women's orchestras in cities across the country. As the last of the many women's orchestras that flourished during the 1920s, 1930s and 1940s, the historic Cleveland Women's Orchestra is the oldest women's orchestra in the country.
In Cleveland in 1935, Hyman Schandler, a Cleveland Orchestra member and violin teacher, took on the task of creating a women's orchestra. He had many talented women students who had no opportunity to play once they were out of school. He discussed the need for such an orchestra with many other musicians and friends, and found a great deal of support for this venture. In 1935, he sent out audition notices and was overwhelmed by the response. He brought together a core group of 80 women of all ages and occupations who shared a love of playing fine music. On November 17, 1936, the Cleveland Women's Orchestra made its debut at Severance Hall. In attendance were most of the musicians and music lovers in Cleveland. The concert was well received with good reviews by all three Cleveland newspapers. The city was filled with excitement about this new orchestra.
The Cleveland Women's Orchestra had a number of specific goals: to provide talented women musicians with performance opportunities; to showcase gifted young soloists, often giving them their first performance opportunity with a full symphony; to join forces with other organizations to perform special-event programs; to develop and perpetuate a series of free Gift of Music outreach concerts; and to return each Spring to Severance Hall for an Annual Concert.
During these many years, the goals of the orchestra have remained the same. It has performed over 500 free outreach concerts — a record unmatched by any other orchestra in the area. It is an important part of Cleveland's rich music scene.
Hyman Schandler conducted the orchestra for 55 years until his death, at the age of 90, in 1990. During those 55 years, he guided the Orchestra as it developed into a vital part of Cleveland's music community. The list of soloists who have performed with the Orchestra is long and impressive. In 1946, an Advisory Board of civic-minded music lovers was founded, which contributed greatly to the orchestra's success. Perhaps the most important orchestra booster was Mr. Schandler's devoted wife, Rebecca, who worked endlessly to help the orchestra prosper.
In 1990, after the death of Mr. Schandler, Robert L. Cronquist was named Music Director.
Robert Cronquist was the second Music Director of the Cleveland Women's Orchestra, assuming the post in 1990. During Mr. Cronquist's tenure, the Orchestra's repertoire and concert schedule greatly expanded and a permanent Endowment was established.
Mr. Cronquist was also Music Director of the Lakeside Festival Orchestra in Lakeside, Ohio. Between 1971 and 2017, he directed this summer symphony, presenting a series of programs that include symphonic works, light classics, ballet and opera.
For 22 years, Mr. Cronquist served as Conductor and first full-time Music Director of the Mansfield Symphony where he engaged many world famous artists to perform as soloists with the orchestra. He established a concert series that included ballet, oratorio, and fully staged operas in addition to symphonic programs.
A French horn player, he performed with many orchestras across the country, including the Phoenix Symphony and the Cleveland Orchestra. He also served as Interim Manager of the Ohio Chamber Orchestra and Director of the Harvard East Branch of The Cleveland Music School Settlement.
Mr. Cronquist had an extensive repertoire of over 1,000 symphonic works, ballets, oratorios and staged operas including Tosca, La Traviata, Il Trovatore, Lucia, and Carmen. Many of the world's greatest artists have performed with Mr. Cronquist including Joseph Gingold, Leonard Rose, Eunice Podis, Itzhak Perlman, Jose Iturbi, "Doc" Severinsen, Karl Haas, Joseph Fuchs, and Metropolitan Opera stars Frank Guarrera, Blanche Thebom, Robert Merrill, Jerome Hines and many others.
Mr. Cronquist was a lifelong friend of Mr. Schandler. His stewardship of the Orchestra helped ensure the continuation of this historic orchestra into the 21st Century.  In 2018, after the death of Mr. Cronquist, John Thomas Dodson was named Interim Music Director.
Conductor Robert Cronquist believed everyone deserves great music: An appreciation, Zachary Lewis, Cleveland Plain Dealer Nov 1, 2018
WITH GRATITUDE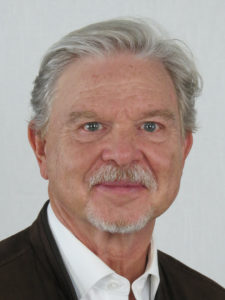 John Thomas Dodson has been the Cleveland Women's Orchestra's Principle Conductor and Artistic Advisor for the past 3 and a half years.  He was engaged following the death of the Orchestra's Music Director of 28 years in 2018, Robert Lee Cronquist.
Maestro Dodson not only conducted all programs during this time, but he also assisted the Orchestra through a transition period to find a permanent Music Director.  With his guidance, the Orchestra completed a successful year-long search for a new Music Director, and we are so pleased to welcome Dr Jungho Kim.  Dr. Kim will move the Orchestra forward with new vigor and vision.
There are really no words to properly thank "John" for his work on behalf of the Cleveland Women's Orchestra.  He led the Orchestra through a difficult time of loss and then the Pandemic, never wavering in his efforts to see it through.
We are grateful and wish him the very best in his future endeavors.
The Cleveland Women's Orchestra